TCU's Clinical Mental Health Counseling master of education program received accreditation from Council for Accreditation of Counseling and Related Educational Programs (CACREP).
Marcella Stark, Associate Professor and Counseling and Human Services Program Coordinator, explained that although CACREP is not required in Texas, some other states require graduation from the specialized accrediting body for licensure, therefore bolstering graduates' job prospects as they move into the workforce.
"Because of all that goes into achieving this accreditation, students (and their future employers) may be assured that they are receiving the appropriate knowledge and skills needed for the counseling profession. CACREP accreditation provides recognition of the high quality and content of our program," said Stark.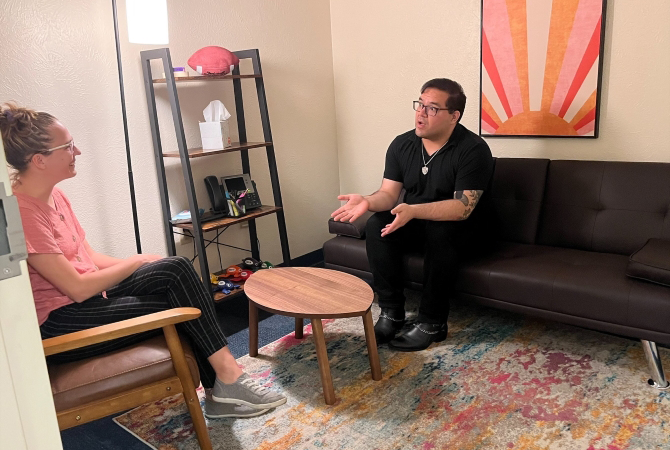 Even before achieving this accreditation, students were attracted to the Clinical Mental Health Counseling program In TCU's College of Education for its faculty and solution-focused therapy approach.
Graduate student Nate Guyton explained that solution-focused therapy teaches counselors to adhere to a client's expertise of their lives with reverence and curiosity about what works for them and what they hope to be different.
"This unique counseling pedagogy of teaching one approach in depth rather than many approaches in breadth gives us a security and balanced confidence as novices in the field. We are able to find what makes a difference for clients through a solution-focused lens that is modeled to us by our professors," said Guyton.
Guyton also explained that the program's focus on solutions helped students manage the challenging hurdle of learning counseling skills in a virtual format during the pandemic.
Emily Hardin chose TCU's program because of the robust support from faculty and staff.
"I know this is a school that truly values the success and well-being of their students. This was important to me because graduate school can be incredibly challenging, especially starting in the middle of a pandemic," Hardin said.
Students in the program complete field experience coursework, where they have the opportunity to practice as clinicians with the support and guidance of faculty. Some students conduct this work at TCU Counseling Services, a partnership with the Fort Worth ISD Carter-Riverside Family Resource Center.
"One of my best experiences in the program was working directly with clients at the Fort Worth ISD/TCU Clinic. I have learned invaluable tools from my time at TCU and am excited to use my new skills as a professional in the future," shared graduate student Linzey Guerra-Stella.
To learn more about the Clinical Mental Health Counseling program, visit the Counseling website. To learn more about CACREP, visit cacrep.org.