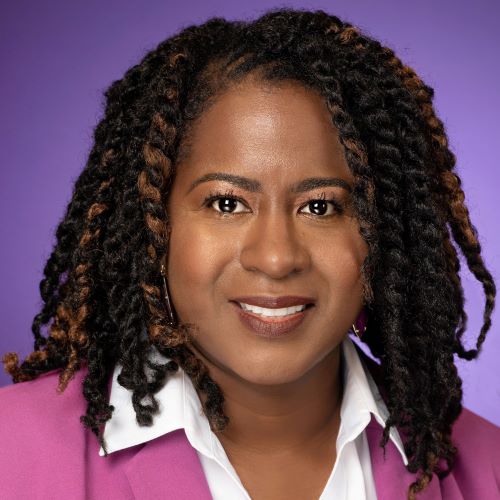 Associate professor of special education Endia Lindo co-edited a recently published book entitled Racism by Another Name: Black Students, Overrepresentation, and Carcerality in Special Education. We asked her a few questions about her research, editing contributions and experience at TCU.
How long have you been at TCU and what brought you here?
I've been at TCU since fall 2016. I was intrigued by the teacher scholar model and framework for preparing our students. I still get to prepare teachers in an urban setting, which is important to me. I was also excited to work with the scholarly community here and do interdisciplinary work, across the college and campus. I have been able to engage in service here and on a national level, taking on leadership roles around diversity and disability, specifically.
Tell us about your research/research focus.
My background is in reading intervention, focused on improving reading comprehension outcomes for students with learning difficulties and disabilities. I aim to understand how we can implement and advance school and community-based interventions. How and what types of supports we might provide to parents supporting struggling learners, especially in late elementary and middle grades. We talk a lot about how parents can support early literacy, but many parents with struggling readers find themselves still needing to be a source of support beyond the early elementary years.
Other questions I explore through my research include: How do we build cultural competence and enhance the presence of culturally sustaining practices in schools? How are we engaging certain curriculum and differences in learning? How do we perceive and present information? How do we avoid biases and stereotypes that perpetuate patterns of low expectations for certain groups?
Tell us about the book you worked on.
We have these ongoing and long-standing trends and disparities of learning outcomes for students. Rarely are Black students represented in intervention research—and if they are, how they experience the intervention is not typically examined. We know they're having different responses to school instruction and the experience as a whole. We see these trends regardless of economic levels, yet we rarely see work that centers their voice or experience.
This book was a product of a broader research agenda for how we improve outcomes for students who live at the intersections of disability status, racial difference and cultural difference. It gives voice to these students, their families, and those who work and advocate for them. It was a labor of love and includes lots of people's work and perspectives. The book addresses ableism, teacher and administrator perspectives and parents as activists in engaging with schools—a lens that is often erased or omitted.
We talk about students' needs a lot, but how do we actually address their needs? We know these kids need intervention or support when they have a disability, but have we considered that race and culture might influence how they respond? There's a lot to be examined still. There is a calling for us to do that as a field and take some of the onus on. We are responsible for ALL of the students that we engage and teach, that they have an experience at school that is sustaining of their culture, not minimizing or feeling like they can't speak their language or be authentic selves in that schoolhouse.
What's your favorite thing about being a Horned Frog?
I enjoy the scholarly community, being in academia and supporting learners. TCU uniquely encourages framing that through teacher scholar model, which has allowed me to do the research that feeds my teaching with expert teachers who are happy to support greater learning for the community. It's great to have lab schools on campus where I can work with the parents. We're making things that are really palatable and we can test out in real time. We also work with Fort Worth ISD to bring them the support that teachers there need.
Being a part of the Horned Frog community has fed me professionally, but also personally. My kids love coming to the science camps and the tree-lighting ceremony. We were welcomed and immersed in the community. I know my students and I get to watch them move through the different levels of programs.
Anything you'd like to add?
I'm excited about this book being released and for other research opportunities. I want to encourage people to think about how we can engage across difference. Our young folks are so entrepreneurial, they're working hard to recognize that they can make a way with their passions. I encourage people to continue to explore passions, learn across differences and consider how that might shape their opportunities and experiences. I've always found that reaching beyond my normal circle/experience encourages me to grow and expand, discovering new realms and ways of engaging.