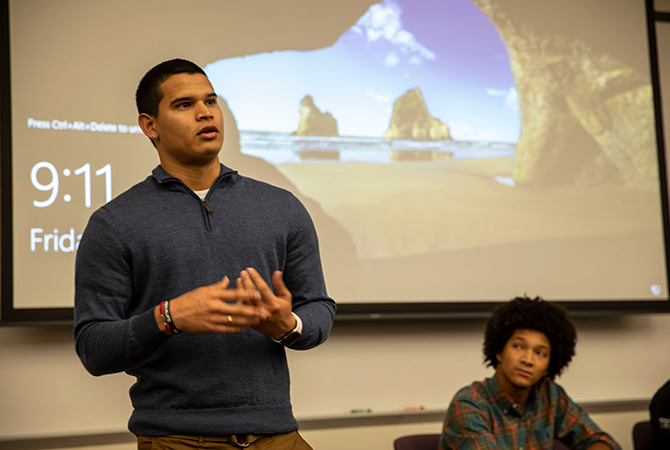 Many students come to school with few or no experiences outside of their own communities. Teachers quickly provide students with windows to the world so they can see things beyond their own personal experience. Mirrors are of equal importance to windows and often overlooked.
TCU's Maestro program is a new initiative to increase the number of highly qualified Latinx teachers in K-12 classrooms by supporting the efforts of young Latinx men to earn their bachelor's degree and teaching credentials. It was born out of a need to create learning environments that better support students' identities, providing the mirrors that can benefit the lives and learning outcomes of countless students.
"Research has shown that culturally and linguistically diverse kids who enter school with positive self-esteem lose confidence in themselves when they encounter low expectations from teachers and are frequently faced with justifying their ways of talking, being and knowing at school," said Steve Przymus, assistant professor in TCU's College of Education.
Of national public school students, 25% identify as Latinx, but only 2% of the teacher workforce consists of Latino males, according to the U.S. Department of Education.
"To this date, I can still remember my first and only Latino male teacher throughout my K-12 experience," said Frank Hernandez, dean of the TCU College of Education. "He transformed my life and the lives of my fellow classmates."
He said Maestro is a thoughtful and intentional approach to diversifying the teaching force in Texas.
"It will help build relationships across the spectrum, from families to businesses, non-profits and other higher education institutions, to purposefully connect and guide students into the incredible profession of teaching," Hernandez said.
Slated to launch in fall of 2022, Maestro will recruit, prepare, place and support Latinx men as they endeavor to earn their degrees and teaching credentials. Its impact will start at the local level, with goals to expand nationally.
"Fort Worth ISD students are rich in diversity," said Fort Worth ISD Superintendent Kent P. Scribner. "TCU's Maestro program is unique in its focus on identification, recruitment and support for Latino males entering the teaching profession. Our students require both content and connection. The Maestro initiative will lead to more classrooms led by culturally competent, high-quality teachers who reflect communities they serve."
The naming of the program stems from the cultural connotation of the term in Spanish-speaking countries—one of deep admiration and respect, meaning not just "teacher" but a "a great or distinguished figure in any sphere."
Przymus believes this phrase could take on the same connotation in the United States.
"Through the Maestro Program's myriad opportunities for Latinx males, future participants will indeed become great and distinguished leaders," he said, "who serve as role models, demonstrate the patience and willingness to support all learners and live out the devotion that upholds and strengthens family traditions, ties and cultural standards."
For more information about the Maestro program, visit the College of Education's website.