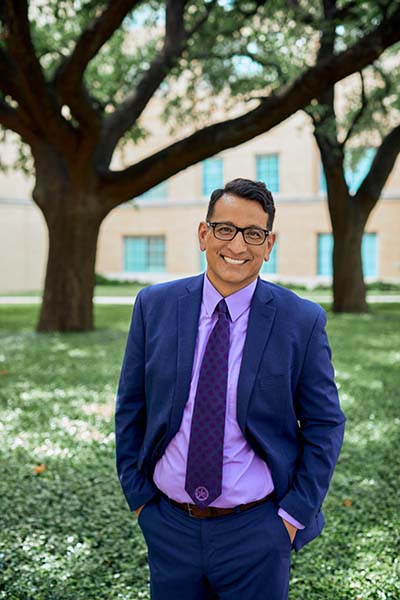 This summer, Dean Frank Hernandez of the Texas Christian University College of Education was elected to the executive committee of the Council of Academic Deans from Research Education Institutions (CADREI).
CADREI is a nonprofit organization assembling deans of education from research and land grant institutions throughout North America. The Council's purpose is to prepare education personnel in all its phases and discuss formulation of plans, policies, and programs to make member institutions more effective in their work. CADREI has grown to more than 150 members.
"I was honored and humbled when I heard that I was elected to the executive committee of CADREI," Hernandez said. "This appointment confirms the work of our College of Education at TCU and enhances our national visibility and distinction."
Hernandez looks forward to collaborating with his fellow dean colleagues across the country as a member of CADREI's executive committee. "I am eager to consider ways in which we could be more effective in how we train the next generation of researchers and practitioners, how we connect our research to practice, and how to track the impact of our graduates."
Frank Hernandez has served as the Dean of TCU's College of Education since 2020. As a first-generation college graduate, he was drawn to a career in education as a way to improve his own life opportunities. Hernandez views education as a way to lift other people out of various devastating circumstances and, in the process, to fight social injustice. He has served for over 30 years in both K-12 and higher education.
TCU's College of Education (COE) is committed to preparing individuals who will contribute to the creation of a humane and just society. TCU is the only university in the nation with two on-campus laboratory schools for children with learning differences, Starpoint and KinderFrogs schools. The COE has the third-largest graduate student enrollment at TCU and its programs are recognized by U.S. News & World Report.
The COE houses five educational research and outreach programs that engage in research, provide outreach opportunities that enrich educational practice and prepare students for college through advising, mentoring, and academic support: the Alice Neeley Special Education Research and Service (ANSERS) Institute, the Andrews Institute of Mathematics & Science Education, the Center for Public Education and Community Engagement, TCU TRIO programs, and the TCU College Advising Corps.