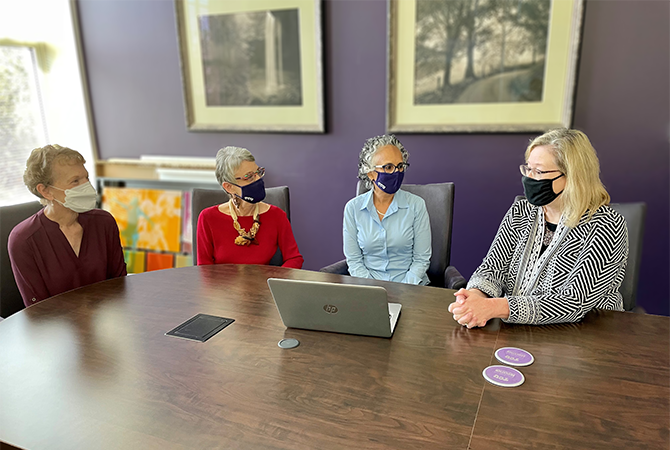 The Rainwater Charitable Foundation (RCF) and Texas Christian University's College of Education (COE) joined forces to conduct research on the impact of the COVID-19 pandemic on the Rainwater community partners and families served by them. This multi-phase research project was conducted from February to July 2021 with the goal of assessing how RCF can improve the ways in which they support community partner organizations.
Six COE faculty members and three graduate research assistants conducted the research, including Sue Anderson, Ed.D., Miriam Ezzani, Ed.D., Frank Hernandez, Ph.D., Gabriel Huddleston, Ph.D., Jan Lacina, Ph.D., Molly Weinburgh, Ph.D., Elissa Bryant, Kayla Bullard and Whitney Roach.
The research consisted of a survey sent to staff of RCF's community partners, who serve various demographics in Tarrant County. In addition, a survey was sent to the families served by community partners. Families who participated in the initial survey were given the opportunity to be interviewed by the research team.
"This project is important because it focuses right here in our community," said Molly Weinburgh, COE faculty, director of Andrews Institute of Mathematics & Science Education and project manager. "We have staff voices, adult caretaker voices, and youth voices speaking about the way they felt the community partners and the greater community responded to Covid."
One of the key takeaways from the research was that the families who were interviewed were very complimentary about the services provided to them during the pandemic.
"Several families felt that they would have been in dire straits without the help of their community partner organizations," Weinburgh said. "There was always an underlying feeling that these organizations were succeeding, and with that they've developed very positive coping mechanisms to get through this."
Despite the overall positive input, the research also garnered some constructive feedback. Weinburgh explained that efforts were duplicated in some areas, but omitted in others. "Food banks and churches were giving food, for example, but no one gave sanitary supplies."
Jan Lacina, Bezos Family Foundation Endowed Chair for Early Childhood Education and COE associate dean of graduate studies, assisted in conducting interviews of the families served by Rainwater's community partner organizations. She explained that this experience was particularly meaningful for her as a researcher and a teacher.
"One mother asked to speak to me twice, and while crying she explained how grateful she is for the food and childcare the community agency provided her," said Lacina. "As a single mother, she was able to keep her job because of the support she was provided and her family remained intact."
With the data gathered, the Rainwater Charitable Foundation will be able to build stronger community partners.
"This type of research is vitally important because of its potential to impact TCU's surrounding communities. Specifically, the research discussed not only the needs of social service providers and the families they serve, but also pointed to the ways in which they were persevering in the midst of a global pandemic. The TCU COE has a unique opportunity to do impactful research with community partners because of our ability to work collaboratively and include multiple perspectives," said Gabriel Huddleston, COE professor and director of the Center for Public Education and Community Engagement.
Moving forward, the College of Education will continue to partner with outside organizations to conduct research on the impact of COVID-19 and other societal issues on education.
For more information on the Rainwater Charitable Foundation and community partners, visit their website.