Drs. Michael Faggella-Luby and Curby Alexander were recently awarded a subcontract for Directed Analytics' $256,000 Small Business Technology Transfer (STTR) grant from the National Science Foundation (NSF).
Faggella-Luby and Alexander have partnered with Jody Mitchell and Derrick Wesley at Directed Analytics, a tech company specializing in developing technical solutions to transform programs into goal attainment systems. Directed Analytics' goal is to utilize artificial intelligence to develop a program that can automate employability skills development for individuals with Autism Spectrum Disorder and Intellectual/Developmental Disabilities (ASD/IDD).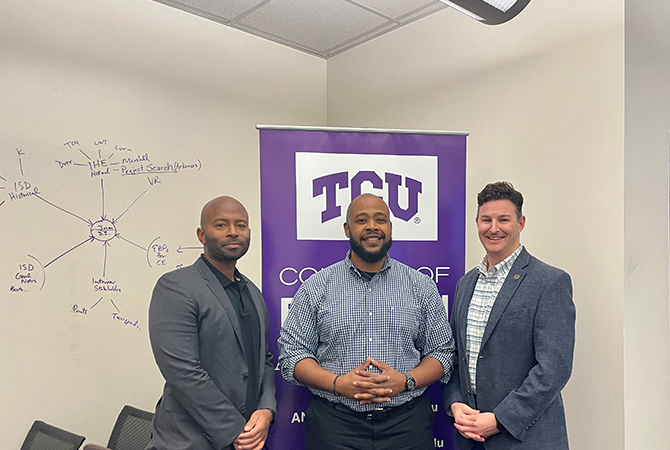 While the number of employed working-age adults with disabilities is only 37%, the disparities are even greater for those with ASD and IDD, said Directed Analytics CEO Jody Mitchell.
"Our goal is to help adults with intellectual and developmental disabilities become competitively employed and get them out of poverty. They're a historically underemployed group in the American economy," said Michael Faggella-Luby, professor of special education in the College of Education at TCU.
Faggella-Luby said that parents of young adults with ASD/IDD aged 18 to 21 worry about what's going to happen to their children once they get out of public schools and lose their access to services. This project seeks to create a pipeline that connects where schools leave off and competitive employment for these individuals begins.
"They want to work and live a meaningful life, just like you and I do," he said.
The grant-funded research involves partnering with local school districts to study characteristics of adults with ASD/IDD who have successfully sustained competitive employment. The team will also examine how they can support local schools in matching these young adults with interventions to hone skills like social-emotional regulation, self-efficacy and being able to advocate for themselves in the workplace.
After codifying these characteristics, the team will leverage Directed Analytics' 4SightGPS software which can enable stakeholders to understand and implement evidence-based practices that will help individuals learn the skills they might be lacking. The NSF-funded research will build upon the existing technology to automate employability skills development.
Mitchell explained that the research partnership with TCU will enable Directed Analytics to deliver a capability that revolutionizes how employability skills are developed across school districts, higher ed, state vocational rehabilitation programs and employers.
Faggella-Luby juxtaposed coding and artificial intelligence research with the real-life impacts the software can have on families of those with intellectual and developmental disabilities.
"This software is really a chance for families to be able to achieve something with their child that every family wants," he said. "What makes it come alive is the payoff in knowing we can help these individuals achieve their greatest potential."