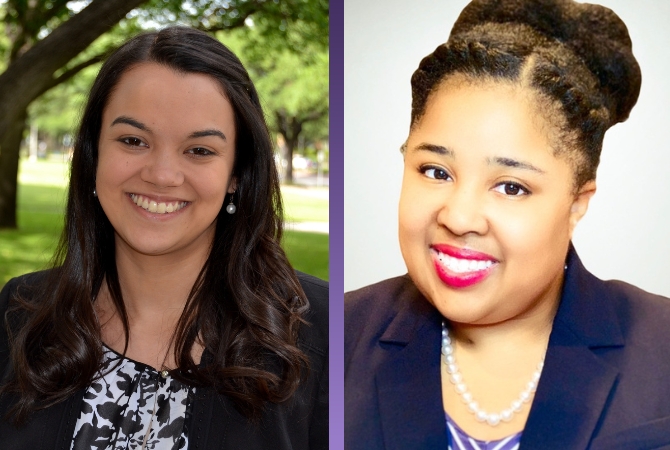 Two doctoral students in educational leadership, Cara Jones and Ebony Love, were accepted into the prestigious Barbara Jackson Scholars Network, part of the University Council for Educational Administration (UCEA).
"The Jackson Scholars Network carries with it a legacy of its own, having established mentoring experiences and onramps to careers in leadership, policy and academia for graduate students of color who are rising stars in the world of education-related scholarship," said Jo Beth Jimerson, professor of educational leadership.
Jones has been attending UCEA conferences since 2015 and appreciates the organization's commitment to providing support and mentorship to graduate students.
"A doctoral program can be a tough, challenging and often lonely journey. I believe in the power of relationships, mentorship and support that this program provides," Jones said.
Jones' research is about sharing the stories of girls of color and honoring their perspectives by inviting them to lead the process of analyzing their stories. She explained that Jackson Scholars mentorship enables her to further her work for students of color while getting one step closer to becoming a professor.
"As a mother of two young, multiracial children, this work is deeply personal to me. I want my children, and all children of color, to know that their voices matter and the world benefits from them adding their perspectives," Jones said.
Love found the Jackson Scholars program through its reputation as a distinguished program making an impact on the doctoral community.
"Jackson Scholars are known for the work that they do, being innovative and leading the field," said Love.
She explained that the Jackson Scholars' work is important because it provides a platform for marginalized researchers.
"The program provides a space for those who otherwise may not have the tools and resources to finish and thrive. It stamps the important of diversity in educational research and professorship," said Love.
Jimerson considers Love and Jones as rising stars in their field, capable of leading the scholars and advocates of tomorrow.
"They both seem to have boundless energy and a drive to leave schools and education better for the next generation. I have rarely been able to work with two such talented people at the same time," said Jimerson. "These Jackson Scholars will be the thinkers and doers upon which a new generation stands. That's a heavy responsibility, but it's one that I know doctoral students like Ebony and Cara will carry well."