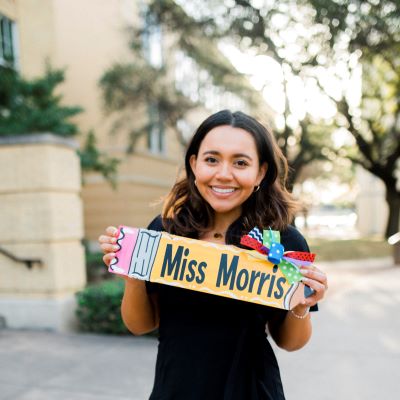 As commencement approaches, the College of Education celebrates the accomplishments of outstanding graduates like Adele Morris. Read on to learn about Adele's contributions to the TCU community and what she plans to do next.
Name: Adele Morris
Degree: Early Childhood through 6th Grade Education (EC-6), on the Special Education and Teaching English as a Second Language Track (dual certification), Accelerated Master's program
Why did you choose to attend TCU?
It sounds cliché, but it was the College of Education. When I was going through colleges, academics was on the list of priorities. The stats of our College of Ed are great – there's a 100% pass rate for teacher certification exams and really good hiring rates everywhere. I also really liked the campus size. As a tour guide I always say this, but it's true: you're never just a number here, everyone knows you for you. It was also a scary decision in that it would take me far away from home. It presented the most challenges, and the most challenges meant the most growth, so that's why I chose TCU.
Tell us about your internships and involvement during your time at TCU.
I was involved in hall crew at Colby Hall my first year, where we planned events under an RA's supervision. Since I was never involved in Greek life, I found every other way to get involved on campus. I was involved in an SDS (Student Development Services) organization called Lead NOW (Network of Women). That was a leadership retreat I attended during my first year, and was the Director of Retreat during my sophomore and junior years. I also did marching band for two years. Sophomore year I started at Frogs for Wellness. It was campus recreation and wellness promotion, and I was Student Director for that. I taught group fitness classes for a year before Covid. I was also a tour guide for three years and Director of Campus Tours for two, so I got to train a lot of the tour guides who are giving tours today. It was fun seeing them grow and become more confident.
Tell us about your proudest accomplishment while at TCU.
There are so many little things, but I think the biggest was when I recently got the Pre-Service Teacher of the Year Award from the College of Education. It really encompasses everything I've worked on throughout the past four years because I've never been afraid to ask questions or speak out. Sometimes I feel different because of that, I don't know why we as humans sometimes don't want to stand out. I always made my own path and did what I knew was right, even if that meant standing out and being different, and to see that I've been recognized for that is really nice.
What will you miss most about TCU?
I'll miss the undergrad experience at TCU, the predictable structure and having a lot of assistance. When my graduate courses take place, we'll have a lot more flexibility. I'll miss having some explicit direction, but it's also exciting to have that flexibility. I'll also miss a lot of my friends – that will be the hardest thing, I'm staying at TCU but a lot of my friends are leaving.
What's next?
I'll continue on to do my Master's at TCU. I have a 20-hour Teaching Assistant position and really want to substitute teach as much as I can handle. I want to stay involved at the school I'm currently working in, but also to see other schools and teachers. With subbing, I'm able to see different ways that teachers organize their class, and also to be exposed to different students. I like the sound of "Dr. Morris," so if there's a great opportunity to do more school, I say "why not?"