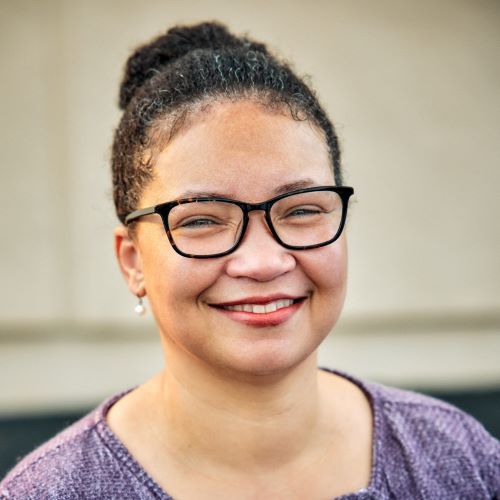 M. Francyne Huckaby, Associate Provost of Faculty Affairs, former Associate Dean and Interim Dean of the School of Interdisciplinary Studies and College of Education faculty member, has been named the 2022 recipient of the Mary Anne Raywid Award. Since 1996, the Society of Professors of Education chooses an individual who has made outstanding contributions to the study of education for this honor. Currently The Society's Immediate Past President, Huckaby shared her thoughts on receiving the prestigious title, as well as the latest on her research.
Tell us a little about your research focus.
My research is varied as it embraces qualitative research, filmmaking, the theoretical and philosophical. What ties all of my work together is its grounding in lived experiences and how we work to create anti-oppressive spaces. I explore such spaces and consider the pedagogy of cultivating such spaces. Sometimes learning environments happen in official capacities such as classrooms, but often what we live and the spaces of our existence form the curricula that shape the ways we come to understand ourselves, others, and our relations. through the lives that we live and the spaces of our existence.
My most recent work is an oral history film and writing project of alumni from Dunbar High School (Texarkana, TX), which was closed in 1968 to integrate Texas High School. The filmed interviews chronicle the experiences of alumni in a supportive school and community that wrapped care around Black students, during integration, and life after high school. The Dunbar alumni also offer their insights on contemporary education. I'm working with an incredible group of brilliant TCU students and alumni on this project – Stephanie Cuellar, Michelle Nguyen, Leslie Ekpe, Rachel Brooks, Kellton Hollins, and Jonathan Crocker. Our chapter, Beyond the Years: Dunbar High School 1916-1968, will be in the book, The First African American High Schools in the US.
How did it feel to find out you were an award recipient?
I was honored and surprised when I found out that I was nominated and thought, "I hope I have a shot at it." Sometimes these nominations mean your name joins a list of incredible scholars and this in and of itself from my perspective is an honor. When I found out I would indeed receive the award, I was super excited and incredibly pleased. I did not anticipate that this would happen to me this year and given that I've recently moved out of a faculty position focused on teaching and research to an administrative position to support faculty I assumed my chances at such an award in upcoming years would be reduced. It's heartening to know that my 20 years of scholarly work is respected by colleagues who know curriculum theory and educational foundations so well.
Why is this important to you, your career, and the field of education?
The Society of Professors of Education (SPE) was founded in 1902 by a group of professors, including John Dewey. People in education, philosophy and the arts will likely know him and his work. Many of our ideals and hopes for education connect with Dewey's ideas. SPE is one of the oldest educational societies in the United States and is an intriguing space because major scholars come through it. Previous Raywid recipients make this point like TCU's own Doug Simpson, who was my professor and dean during my master's studies here at TCU, scholars who visited TCU like William H. Schubert and TCU Green Chairs Maxine Greene, Joel Spring, and Gloria Ladson-Billings; my own mentors including Bill Pinar, William H. Watkins, and Janet Miller; models and icons Craig Kridel, Geneva Gay, Herbert Kliebard, Daniel Tanner, and George Noblit; and my contemporaries Ming Fang He, Pamela Konkol, and Denise Taliaferro Baszile. What a privilege it is to be considered among such amazing teacher-scholars. This particular award is significant not only because of who has received it. Mary Anne Raywid studied and advocated for small schools and smaller class sizes and influenced conversations and decisions in schools. As a young community educator right out of college, I was noticing what small classes made possible and drew upon language that made if from the university and into a more common lexicon. Such influence is not easy to accomplish.
Anything else you'd like to share?
I believe it is important to find the joy in being a teacher-scholar, in forming our careers, and in the consistent, disciplined practice that builds a body of work as a teacher-scholar work paper by paper, semester by semester, and book by book.