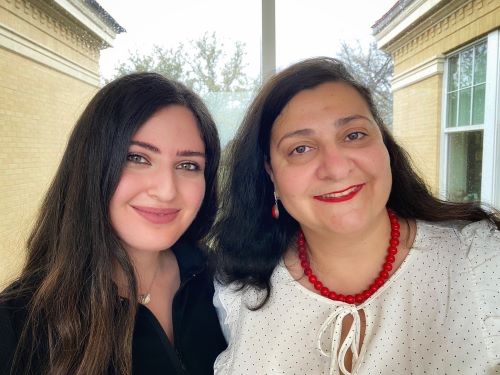 Ihsan Ghazal, a science education doctoral student from Lebanon, is a two-time recipient of the Classroom Teachers Scholarship from the National Association for Research in Science Teaching (NARST). This prestigious title – with only nine awarded each year – goes to supporting teachers who collaborate with NARST members on research projects. Ghazal worked alongside Hayat Hokayem, science education associate professor, on the research project investigating Grade 12 students' reasoning of the immune system in Beirut, Lebanon.
"I was a part-time teacher in Lebanon and a TCU student at the same time," said Ghazal, who explained her research in teaching 12th grade students about the immune system.
"This was important because learning about the immune system provides scientific knowledge to evaluate what students hear about, especially during the pandemic, and helps them understand how the body responds to viruses," she said.
Hokayem and Ghazal have developed a mentor/mentee relationship forged from a mutual love for new ideas.
"She has been wonderful to mentor," said Hokayem. "When I give her feedback, she takes it positively and makes the changes. That's essential to producing good work. I also like when somebody argues with me because that's how you push the ideas … if she's not convinced, she'll tell me."
Ghazal is also greatly appreciative of Hokayem's mentorship early on in her research process.
"The mentorship from Dr. Hokayem is very important, because there's a shared experience and continuous guidance throughout the process," she said. "This is crucial for a researcher at the beginning of their career."
Ghazal was elated to receive the scholarship.
"I was very excited, honored and humbled when I found out," said Ghazal. "It means a lot to me because [the scholarship] is specifically for teachers—I'm a teacher of eight years and I'm proud of that. It motivates me to pursue more work in this field as a science educator."
Ghazal said she appreciates the science education program at TCU and the learning opportunities she's had from various professors like Hokayem, who said she enjoys working with graduate students.
"I feel that they bring the new ideas, the vibes," she said. "I love that each one is their own personality, so you have to think and engage in their needs."
Hokayem and Ghazal will present their research findings side-by-side at the March NARST conference. This will be Ghazal's first in-person conference after two years of the pandemic, and she's excited not only to present but to learn from other valued scholars and researchers.
Ghazal plans to continue honing her craft in both teaching and research with the eventual goal of becoming a college professor.
"Being open to critical comments about what you do is important to move forward," she said. "You cannot just stick to your own viewpoints. You need to take other opinions into consideration to continue progressing."