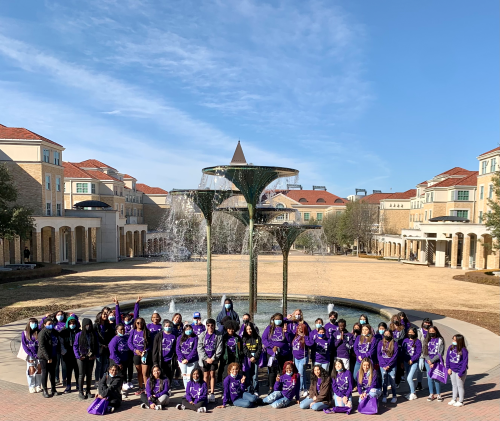 The College of Education (COE) at Texas Christian University strives to support education both on and off-campus. The Center for Public Education and Community Engagement (CPECE), housed within the COE, is a research center that focuses on issues relating to public education and the communities that are connected to those schools. CPECE has a history of affirming education as a civil and human right and a public good.
Formerly called the Center for Public Education, the organization recently re-branded to add "Community Engagement" to its title. Gabriel Huddleston, associate professor of curriculum studies and director of CPECE, explained that the name change was implemented for two reasons.
"One reason is that we wanted to expand the focus of the Center to include communities in and around public education. Schools are not built in isolation; they have connection points to other aspects of society and the community," he said.
Huddleston continued on to explain that part of CPECE's expansion includes conducting more research and program evaluation for its community partners.
"We'd like to bring the resources of TCU as a research institution to bear in a positive way for schools and community partners. We want to help them achieve their goals, and help them do it more efficiently and effectively," he said.
Frank Hernandez, dean of the College of Education, views community partners as critical to the success of TCU faculty and students.
"Working together with schools, districts and other non-profits to address and invest in their questions provides an opportunity to improve programs and services for children and families in our communities," he said. "Our program evaluation efforts are grounded in equity. We work together to systematically collect, analyze, and use data to tell a compelling story about the effectiveness and efficiency of programs."
TCU students also benefit from working with CPECE. Nicole Weinberg, a curriculum studies doctoral student from the Fort Worth area, has met others who share her passion for equitable changes in education and the broader community through CPECE.
"Working with CPECE on program evaluation has allowed me the opportunity to apply the skills and knowledge that I'm cultivating in my coursework together with a dedicated team of professors, other graduate students and community stakeholders," said Weinberg.
This year, Kayla Bullard, an educational leadership doctoral student, coordinated CPECE's Aspiring Educators event alongside Katie Fonville, career and technical education department chair at Western Hills High School. Aspiring Educators is part of an ongoing partnership between CPECE and Western Hills, where students interested in education have the opportunity to visit TCU's campus for the day to learn about applications, scholarships and the college experience.
"It's about influencing and training the next generation," said Bullard. "What they receive in our classrooms will shape their value, experience and belief about education," she said.
Bullard was also inspired to continue teaching high school through her work with CPECE and Western Hills, even though she was ready to move in a different direction. "When I met those students, I realized that I was trying to run away from what I was called to do. Having that opportunity to visualize, influence, impact, strengthen, encourage—it came directly from the CPECE program."
The Center for Public Education and Community Engagement has been serving the community for over two decades, and plans to do more meaningful work in the years to come. Through community-focused programming and program evaluation, CPECE will forge new partnerships that strengthen public education on multiple levels.