TCU's Student Support Services (SSS) will hold their first-ever business attire pop-up shop 10 a.m. – 6 p.m., Sept. 12 and 15, in the Brown-Lupton University Union (BLUU) Auditorium.
"The pop-up shop is an opportunity for students to come and have a shopping experience to get clothing items that help them be successful, confident and feel good when they're participating in career fairs, job interviews and networking events" said Jowelle Mitchell, the event's organizer and assistant director of SSS STEM and Health Science program at TCU.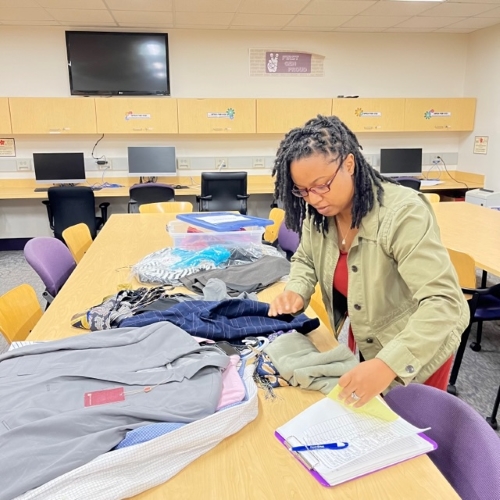 "When you look good and feel good, you tend to perform well. This meets a need for students so they can do what they need to be successful," Mitchell said.
The pop-up shop will include blazers, collared shirts, pants, shoes, accessories, ties and dresses all in inclusive sizing. Anyone in need of professional attire is welcome to come and shop at no cost.
SSS is one of two federal TRIO programs housed on TCU's campus, alongside the Ronald E. McNair Post-Baccalaureate Achievement Program. SSS seeks to increase the retention and graduation rates of first-generation, lesser income students and students with disabilities and foster an institutional climate conducive to their success.
Additionally, the Department of Education recently granted TCU funds to implement a third program, Upward Bound. TRIO Programs are designed to provide services for individuals from underrepresented backgrounds and assist them progressing through the academic pipeline from middle school to postbaccalaureate programs.
Mitchell explained that the business attire pop-up shop has engaged the entire campus and alumni community at TCU.
"Everyone is rallying to donate business attire – even to the extent that a colleague has offered sewing and tailoring services," she shared.
Producing this event is a full-circle moment for Mitchell. She was provided with a similar opportunity in the past and is determined to pay it forward.
"I've seen the power of community coming together to support folks. You meet a need, they go and are successful, then they give back. This cyclical support has created a community, not just in SSS and around TCU, but also in Fort Worth."
For more information about the pop-up shop event, visit the TCU calendar. To learn about SSS and TRIO Programs, visit our website.
Volunteer opportunities are available to support students as they shop. Call Jowelle Mitchell 817-257-5679 for more information.