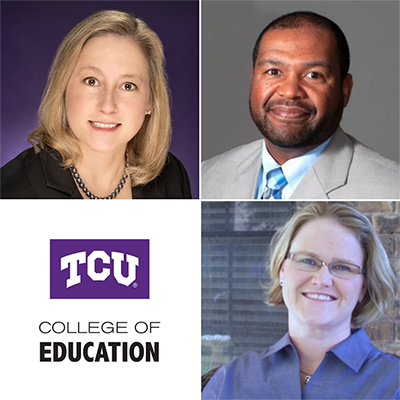 The College of Education and Dean Frank Hernandez at Texas Christian University has named three faculty members to hold seats of endowed chairs. Endowed faculty positions are essential in creating new knowledge and shaping a vibrant future through exemplary research and teaching and are among the most prestigious and enduring investments a donor can make. Most recently, the Bezos Family Foundation made a $3 million commitment to establish the Bezos Family Foundation Endowed Chair for Early Childhood Education.
"Our foundation's mission is to invest in the science of learning and the experiences that youth from birth through high school need to pursue their own path for success," said Jackie Bezos, president of the Bezos Family Foundation. "Our goal with this investment in TCU's College of Education is to bolster faculty leadership in the critical field of early childhood education and learning. Dr. Jan Lacina is an esteemed leader and we are delighted to have her serve as the inaugural holder of this chair. We look forward to following her progress and are confident in the positive difference she will continue to make for children, families and the future."
The first holder of the Bezos Family Foundation Endowed Chair for Early Childhood Education, Jan Lacina, Ph.D., serves as the College of Education's associate dean of graduate studies and as a professor.
"I am incredibly honored to be appointed as The Bezos Family Foundation Endowed Chair. This appointment is especially meaningful to me because of the outstanding work of the Bezos Family Foundation and their vision for a better world for all children," said Lacina. "I am inspired by the College of Education's teacher candidates, and I am excited about the research and scholarly activities that the endowed chair position will provide me, and our college."
Established in 2005, the Jean W. Roach Chair of Laboratory Schools was made possible by the generosity of Mr. and Mrs. John V. Roach and the Roach Foundation. This chair recognizes the academic leadership in special education of the Director of the College of Education's two laboratory schools, KinderFrogs and Starpoint School.
"Having been involved with KinderFrogs since the founding, I am proud of its growth and development as well as the outstanding reputation of Starpoint," said donor Jean Roach. "We felt the donation was well earned… we are proud of the lab school students and the TCU students for their support."
Damian Patton, who was appointed as director of the Laboratory Schools in May of 2021, is the new holder of the Jean W. Roach Chair of Laboratory Schools.
"When I learned that I was named an endowed chair for two elite schools on an amazing university campus, I was overjoyed. I'm elated at the opportunity to continue to serve students, parents, faculty and the community at large," said Patton. "You will see me lead with the highest level of integrity, loyalty, courage and respect for everyone that I encounter."
The William L. and Betty F. Adams Chair of Education was TCU's first named chair in education. The endowed position emphasizes the critical importance of education, which was highly valued by William and Betty Adams.
The holder of the William L. and Betty F. Adams Chair of Education is Jo Beth Jimerson, Ph.D. and College of Education associate professor.
"I was honored and grateful to learn that I was being named the William L. and Betty F. Adams Chair of Education. I've been immensely proud of how we've developed and grown our graduate programs in Educational Leadership over the past decade," said Jimerson. "The Adams Chair will energize me and allow me to push harder, go further, and engage with a broader span of collaborators to improve schooling conditions and outcomes for every leader, every teacher, every student, every day."
The generous gifts made to the College of Education enable the college to fulfill its mission of preparing exemplary leaders who are reflective, ethical, innovative, and committed to all learners for years to come. They also support Lead On: A Campaign for TCU, the university's most ambitious campaign in its almost 150-year history. The $1 billion goal of this campaign will strengthen TCU's people and programs. More than 48,300 donors have contributed over $725 million in support of the campaign to date. To learn more, visit leadon.tcu.edu/campaign.