Kayle Davis believes that the best things in life are placed on the other side of fear. She took a chance on her first Miss America preliminary competition, Miss Austin Peay/Miss Queen City, after seeing a poster at her university in 2017.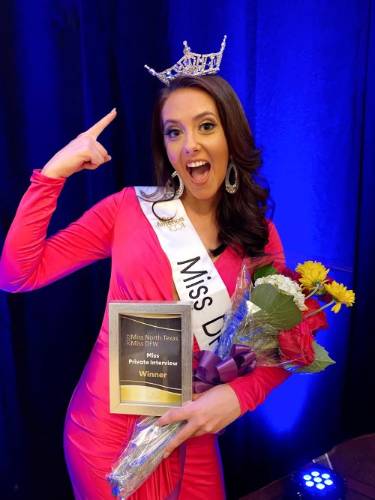 "After an outpour of encouragement from my friends and family, I entered the competition and to my surprise, I took home the crown," said the master's student in the College of Education's educational leadership program. Davis went on to place in the top 15 at the Miss Tennessee competition—the first Miss Austin Peay to place in 33 years.
Davis continued to compete and serve in different areas of Tennessee, earning titles like Miss Music City and Miss Southern Tennessee, among others. After moving to Texas, she became engaged in the Miss Texas community as a way to make new friends.
This September, Kayle Davis earned the title and crown of Miss DFW.
She explains the history of the Miss America Organization, which started in the 1920s as a swimwear competition.
"Fast forward 100 years, and we have seen the competition evolve, just as women have," she said. "Today it's known as a scholarship competition and is the largest scholarship provider for women in the U.S."
The competition consists of four parts: private interview, talent, social impact pitch and red carpet wear—all of which take countless hours of preparation. Davis' favorite area is the social impact pitch, where each candidate chooses a social impact or philanthropical topic and prepares a 30-minute speech. Each candidate dedicates their year of service to the organization or cause they choose.
"My social impact is called 'Be the Light: Advocating for Better Mental Health,'" she said. "I have a passion for empowering individuals of all ages to be informed on mental health resources, to tell their stories of mental health, and to share a message of hope and compassion for those struggling."
Davis intends to use her new position to effect positive change, partnering with organizations like The National Alliance on Mental Illness and The Jason Foundation to advocate for better education on mental wellness.
"The job of Miss DFW means putting others first," she said. "It's my mission to use the title and crown to empower and inspire others."
Davis' favorite part of being a Horned Frog is the community at TCU.
"Everyone is so friendly and have quickly become like family to me," she said.
She also appreciates the connections she has made with her professors, citing them as a constant support system for her and her fellow graduate students.
Davis has achieved great success in getting out of comfort zone, from moving cross-country to entering her first Miss America competition, knowing no one and having no prior experience.
"I have seen how taking chances and pushing past the things that scare us can bring some of the most rewarding outcomes," she said.
What's next for Davis? She aspires to have a career in student affairs, specifically relating to wellness education and promotion. And watch out for Miss DFW competing in the 2022 Miss Texas scholarship competition. If she wins, she has a chance to compete for the title of Miss America.