Students at TCU come from many different walks of life, and early childhood education major Gigi McBride is no exception. She grew up in Washington, D.C., where her mom served as the Chief of Staff for First Lady Laura Bush from 2004-2009. It was during this time with the George W. Bush administration where Gigi's love of learning began, and was cultivated by Mrs. Bush herself.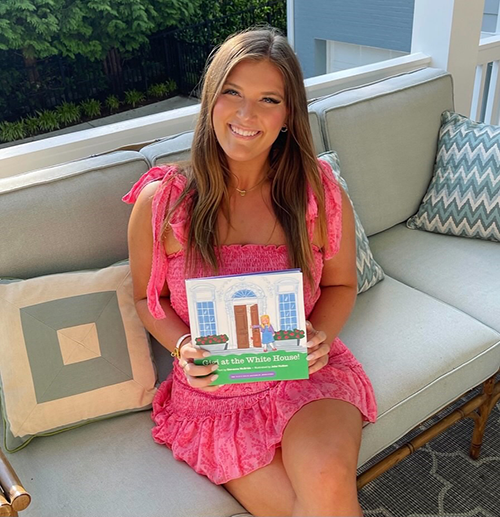 "Mrs. Bush really advocated for children's literacy, learning and reading," McBride said. "My conversations with her always consisted of what I was studying and reading about in school. It really got me more interested in my education."
McBride described her time with Mrs. Bush in the White House with fondness and admiration. She explained that White House staff were often working late nights away from their families, and Mrs. Bush made a concerted effort to plan special events for the children.
"She was the kindest, most gentle, nurturing soul," McBride said. "She planned trick or treating, movie nights, even a birthday party for the dogs. She was always so welcoming to my brother and me."
The White House Historical Association, where McBride's mother served on the Board of Directors, has a shop where they sell annual Christmas ornaments, promote educational programs, and even publish children's books.
"The first time I thought about writing a book is when I was 10 years old," said McBride. "My nanny used to say I have an elephant brain. I could remember the smallest details. When my mom told me that the White House Historical Association was looking for books to publish in 2019, I decided to pitch my idea to them."
McBride explains that the historical association members were excited that she wanted to tell the story of her first-hand experience in the White House. They loved her pitch, and she was storyboarding her children's book in no time (although production was delayed due to COVID-19).
The book, titled Gigi at the White House, was published on June 7, 2021. It details Gigi's adventures growing up around the White House, featuring fond memories like trying on the secret service agent's sunglasses, hanging out with the chefs and florists and watching July 4th fireworks on the White House lawn.
"When the book actually came to my house and I got to hold it, it was so surreal," McBride said. "Everything came to life. Seeing it online was amazing on its own, but seeing it in person was so special."
Since George W. and Laura Bush are part of the story, McBride asked for them to sign off on the project.
"Mrs. Bush thought it was a super sweet idea," she said.
McBride said she sought to honor the amazing experiences that Mrs. Bush facilitated for them.
"Spending so much time in the White House really impacted how I grew up," McBride said. "Writing the book and sharing it with other people helped me process how unique that was."
What's next for Gigi McBride? She plans to travel after school, taking a break from the fast-paced life her family leads in Washington, D.C., and is eager to be a classroom teacher. She also hopes to write another book for the White House Historical Association, with plans to turn it into a children's book series.
Gigi at the White House can be purchased online through the White House Historical Association.