The College of Education at TCU named three new students in the Holmes Scholars program: Naomi Alanis, science education doctoral student, Jessie Farris, science education doctoral student, and Nicole Masole, higher educational leadership doctoral student.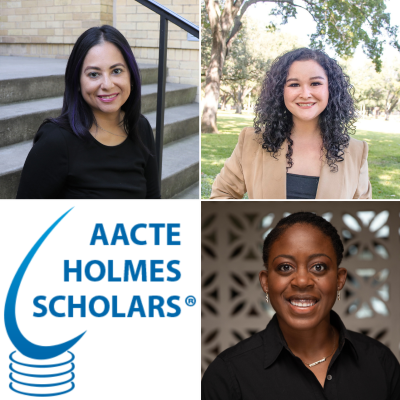 Holmes Scholars at TCU are part of a national network of students from traditionally underrepresented backgrounds in pursuit of doctoral degrees. The scholars are selected based on their academic achievements and commitment to promoting diversity, equity and inclusion in the field of education. The Holmes Scholars program is part of the American Association of Colleges of Teacher Education (AACTE).
Alanis, Farris, and Masole shared some insights about their new positions and experience at TCU so far.
Q: What does being a Holmes Scholar mean to you?
NA: Being a Holmes Scholar means that I will have an opportunity to engage and collaborate with doctoral students and mentors from traditionally underrepresented communities similar to mine, yet unique in so many ways. It is meaningful for me to understand the perspectives of others and the cultural and historical contexts in how we interact with each other.
JF: As a first-generation college graduate, being a Holmes Scholar means that I will be able to further enhance representation of Hispanic women in the STEM field and work force. I believe that it is my duty to accurately articulate the experiences of students with disabilities, people of color and other audiences who can further our understanding of valuing diversity in STEM. My goal is to examine the conditions linked to correlations between socioeconomic status and biodiversity by exploring case studies of inequality in Hispanic communities' access to these resources to promote equitable access to nature and ecosystem services.
NM: For me, it means an opportunity to represent TCU in a new context with others with similar backgrounds and interests as me. I love that it is an opportunity to gain further support and mentorship, and I love that I get to experience the beauty of a TCU education through being a Holmes Scholar.
Q: What are you most looking forward to about the Holmes Scholar program?
NA: I am looking forward to exploring new scientific knowledge and pairing it with complex societal issues to advance educational and scientific research. It is an exciting prospect, given that teaching and learning continue to evolve quickly and in profound ways.
JF: I am excited for networking opportunities and to connect with other Holmes Scholars and former Holmes Scholar Alumna. I look forward to promoting the diversity of Hispanic women in STEM and learning how to prepare myself and fellow educators can serve diverse learners.
NM: I am so excited to connect with other Holmes Scholars and to be inspired by the research and passion. I hope to make connections that will foster further collaboration, research, innovation and joy.
Q: What is your favorite thing about being a Horned Frog?
NA: My favorite thing about being a Horned Frog is the sense of community, pride and unity surrounding the campus.
JF: My favorite thing about being a Horned Frog is the community. I am fortunate to be with a university that inspires innovation and developing relationships with my peers and professors. We are Horned Frogs, and we are family.
NM: I really do love the community, energy and passion of my professors. They have all been so encouraging in my journey thus far. When I first started my program, I was very nervous. I really wasn't sure if I belonged. However, I cannot thank my professors and classmates enough for encouraging my voice. Their constant reminders that I too belong here has been so uplifting, and, because of them, I love being a Horned Frog.
Click here to learn more about the Holmes Scholars program at TCU.
Editor's Note: The questions and answers have been edited for length and clarity.