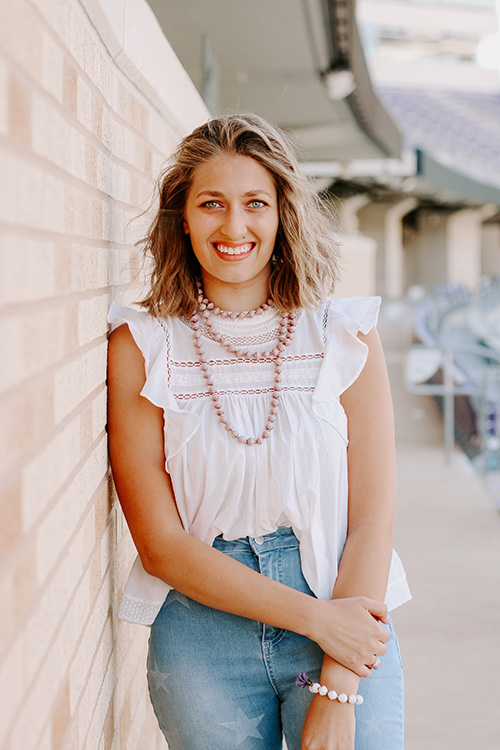 Another graduating class of Horned Frogs is ready to change the world for the greater good. Finishing strong amid a pandemic, members of the class of 2021 have proved their resilience and grit, skills valued by potential employers. The TCU Center for Career & Professional Development shines the spotlight on a sampling of TCU's amazing spring class of 2021, who share about their time on campus and what's next for their careers.
"We have seen significant changes from the traditional recruiting processes and hiring timelines this year," said Mike Caldwell, executive director of the TCU Center for Career & Professional Development. "Throughout this process, TCU students and grads have adapted quickly and effectively, successfully demonstrating their career readiness skills."
From the College of Education:
Savannah Bowman
Georgetown, Texas
B.S. in early childhood education (EC-6) with a specialty in ESL and special education
John V. Roach Honors College
TCU MEd class of 2022
What brought you to TCU?
SB: I chose TCU because it has a great education program, it was not too big and it was the perfect distance from home.
What have you enjoyed most about being a Horned Frog?
SB: The TCU community has been the best part of being a Horned Frog. I love wearing TCU gear when not in Fort Worth and having random people say, "Go Frogs!" The professors are the best and many have helped me semesters after taking their classes.
What are your plans after graduation?
SB: I am excited to stay at TCU another year to complete my Master of Education in curriculum and instruction.
How has TCU helped prepare you for your future career?
SB: The College of Education has been amazing about providing experiences out in the community — from my first class freshman year getting to go into schools and now finishing with my student teaching semester. We have been exposed to a diverse array of schools that have allowed me to narrow in on where I want to teach after graduation.
Was there any particular experience that was especially helpful?
SB: Student teaching has been so helpful to learn how schools operate and the daily ins and outs of being a teacher as we spend all day five days a week in our classrooms at local schools.
What makes TCU so special to you?
SB: TCU has allowed me to take classes that helped me explore our community and our country. I have made lifelong friends and have grown so much through what I have learned.
Anything else to add?
SB: Some of my favorite courses were in the Honors College. I still talk about and reflect upon things I learned from the classes I took in the Honors College.
Read more stories about career-ready Horned Frogs: TCU Class of 2021 Already Making an Impact