Main Content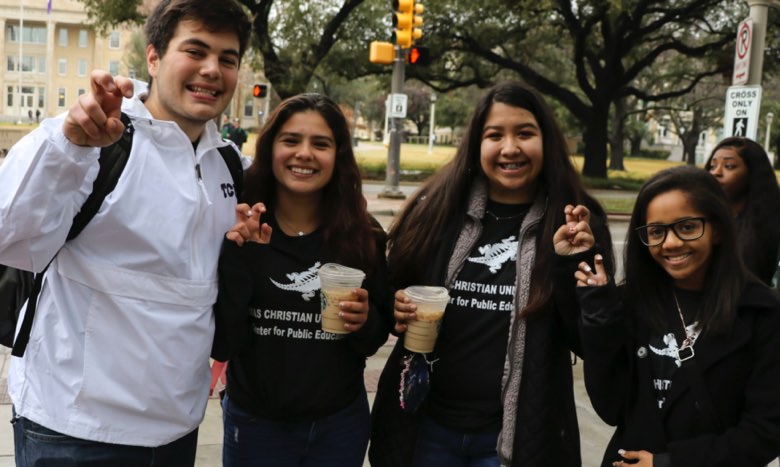 Throughout the year, the Center for Public Education & Community Engagement works with various local school districts to host events and workshops that enrich the lives and education of students. The Center for Public Education & Community Engagement also hosts professional development workshops for teachers, principals and other school leaders to help further leadership skills and provide resources.
Recent Projects Awarded to Graduate Students
Jayna McQueen, Texas at the 2016 National Association for the Education of Young Children Public Policy Forum
Mia Shapiro, M-Power (Mentor Power): Through the power of mentorship and scaffolded learning opportunities, students are empowered to develop and reach their goals. By focusing on the individual skills and desires of each child, the mentor helps to create and facilitate a tailor-made professional and/or educational action plan. By M-Powering youth in this way, we help the most vulnerable and powerless in our communities know that they can achieve their goals and be the leaders of change.
Courtney Wait, Travel for Network for Public Education Conference
Altheria Gaston, An Inside Look at the Lives of Three Families in Poverty
Katie Hockema & Janekka Colbert, Critical Inquiry and Media Literacy: Deconstructing Media Representations to Promote Inclusiveness
Ying Wang & Yoon Lee, Research Apprenticeship Travel for Public Education Project
TCU College Advising Corps
TCU's Center for Public Education & Community Engagement is the only institution of higher education in the Dallas-Fort Worth metroplex to house an College Advising Corps chapter. The TCU College Advising Corps places recent college graduates in high schools as college advisors.
Anti-Bias/Bullying Workshop
TCU College of Education students participate in anti-bullying and anti-bias workshops before student teaching. This project ensures that each graduate eligible for teaching certification has training on how to prevent bullying and eliminate biases in the classroom. This project is a collaboration between the Anti-Defamation League and the Center for Public Education & Community Engagement.
Aspiring Educators
TCU graduate students support High School Aspiring Educators by providing mentoring and classes on the teaching profession and introducing them to the TCU campus and college life. This project is collaboration between Western Hills high school and the Center for Public Education & Community Engagement. Contact us to help fund this project.
Como Neighborhood Project
TCU students work with the Como Community on research and education projects to develop community specific learning materials and a documentary on the neighborhood's history.
Math, Science and Language Summer School
TCU students and faculty teach English language learners, who are refugees recently settled in Fort Worth. During summer school, students improve their academic language and knowledge of science and mathematics. Fort Worth Independent School District, TCU's Andrews Institute, and the Center for Public Education & Community Engagement collaborate on this project.
Public Education: Voice, Action and Uprising
TCU faculty conduct research on public education and democratic action with assistance from TCU graduates.
Refugee Families Project
TCU students help refugee families with school-age students navigate public transportation and transition into public school. This project is a collaboration between Catholic Charities, TCU students and The Center for Public Education & Community Engagement.
Sister to Sister
TCU students mentor middle school girls through Sister-to-Sister Workshops.
Spelling Bee
TCU's Center for Public Education & Community Engagement hosts the North Texas regional Spelling Bee. The winner competes in Washington, DC at the national Scripps Spelling Bee.
Paschal Writing Camp
TCU students help Paschal High School students improve their writing and prepare for tests in TCU's annual Writing Camp on the TCU campus.
iEngage Summer Civics Institute
A five-day day camp designed to help middle school students learn how to make a difference in their neighborhood, school, and community.